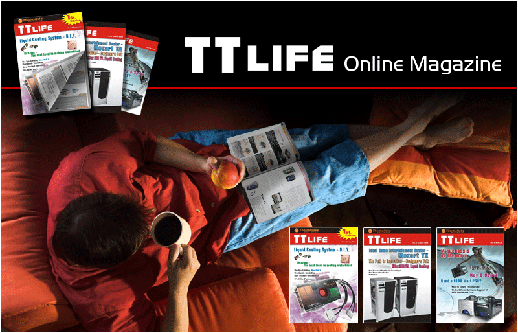 TT LIFE Online Magazine is Ready to be Clicked -
2007/01/04 Taipei, Taiwan

The popular TT LIFE magazine is finally available for enthusiasts worldwide to view and download online.

Thermaltake, the #1 choice for PC DIY enthusiasts worldwide, is well known for its stylish chassis, high performance coolers, and most reliable power supply. Not only successful in providing outstanding products, Thermaltake also makes effort in introducing the new technology, the industrial trend, the new products, and Thermaltake's vision to enthusiasts worldwide through its own quarterly free magazine, TT LIFE.
TT LIFE started its first print in Q1 2006 is now ready to publish its 4th issue, and is distributing over 10,000 free copies worldwide each quarter. But global enthusiasts are broaching about the limit quantity of TT LIFE and its availability. To service our reader and supporters better, Thermaltake is ready to present TT LIFE online now.


Through the easy user interface, users can have an overview of each issue of TT LIFE Online Magazine then download it to user's PC for future reading. Now, the newest innovation and industrial trend is just a simple click away. And the this new feature can be found at
http://www.thermaltake.com/support/Marketing/tt-life_index.asp
About ThermalTake
Thermaltake Incorporation, based in Taipei, Taiwan is the global leader Thermal Solution and Thermal Management for PC & Industrial Market. Its Engineering Staffs masters in Airflow Analysis, Material Conductivity and Heat Dissipation Efficiency. Thermaltake offers a wide range of products and services, providing effective and cost-conscious cooling devices. The Company has more than 1,000 employees worldwide supporting customers from its headquarters in Taipei, Taiwan, as well as from offices in China, Europe and United States Continent