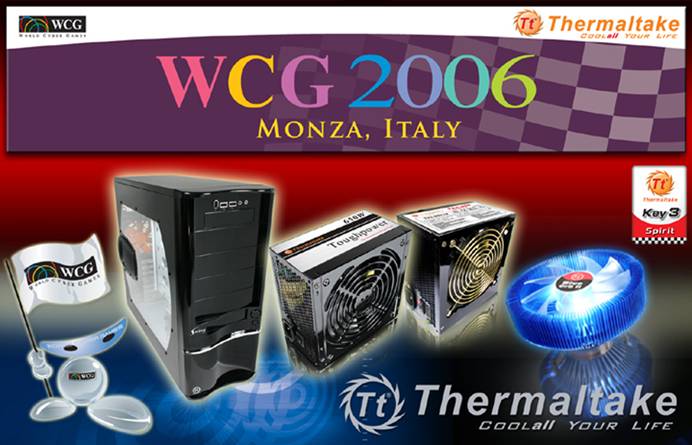 WCG (World Cyber Games) is the world's largest year-round gaming festival; and its annual Grand Final is described as the Olympics of cyber gaming world. In year 2006, over 700 finalists from 70 countries worldwide will be battling in Monza, Italy on 10/18~10/22 for the ultimate championship and try to be the No. 1 in cyber gaming world.
This year, Thermaltake is proud to be the official hardware supplier of the WCG 2006 Grand Final Tournament PC. The high quality Chassis, Cooler, and Power Supplies from Thermaltake were chosen by WCG to enhance the performance, stability, and thermal management of their tournament PC, in order to provide world's best gamers the premier competition equipment and environment.
These components will be used in the following 6 games and are recommended for the best performance. "StarCraft : Brood War", "WarCraft III : the Frozen Throne", "Counterstrike 1.6 : Half Life", "Warhammer 40,000 : Winter Assault", "FIFA Soccer 2006", and "Need for Speed : Most Wanted"
As an official hardware supplier, Thermaltake will have an exhibition area at the Grand Final venue; we will be showing the most advanced technology and our newest products. We sincerely invite everyone to join this cyber gaming feast and visit Thermaltake booth for a look of what's new in the market.
Following are the Thermaltake components that have been chosen for the WCG 2006 Grand Final Official Tournament PC.
Chassis : Swing (P/N: VB6000BWS)
1. High efficiency ventilation: 12cm silent fan

2. Transparent side pan

3. Tool - Free when installing 5.25" & 3.5" device

4. Mirror coating front panel

5. Stylish curvy front panel design

6. Thumb-screws for easy opening side panel
Cooler : Blue Orb II (P/N: CL-P0257)
1. Radian Crotched Fin for superior air flow

2. Copper Core provides rapid heat transfer and increases thermal conductivity

3. Silent 12cm Blue LED Fan at 17dBA only

4. 140 aluminum fins maximize heat dissipation area
Power Supply : Toughpower 600W (P/N: W0103)
1. 14cm ultra silent fan

2. Four +12V rails for combined 48A

3. Independent Voltage Circuit stabilizes voltage

4. Active Power Factor Correction of PF>0.99

5. High efficiency up to 85%

6. Superb voltage regulation at ±3%

7. High reliability with MTBF>120,000 hours

8. Complies with ATX 12V 2.2 & EPS 12V version
Power Supply : TR2 550W (P/N: W0101)
1. 2 PCI-Express, 4 S-ATA, and 20+4 pin connector

2. Active Power Factor Correction

3. 12 cm low noise fan.

4. Power ON/OFF LED indicator

5. Over Current/Voltage & Short-Circuit protections

6. Complies with ATX 12V 2.0 Version



Check below for more info on Thermaltake at WCG 2006 Grand Final :