The eye-soothing Tt Home Theater Selections give a warm
welcome to our guests in Japan at the entrance.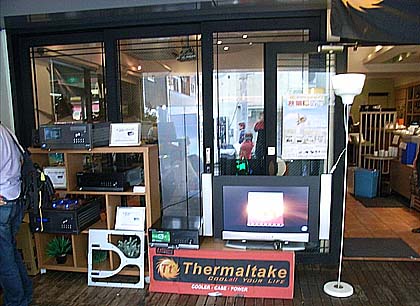 The Stunning SwordM Chassis opens your eyes
to the world of Thermaltake creativities.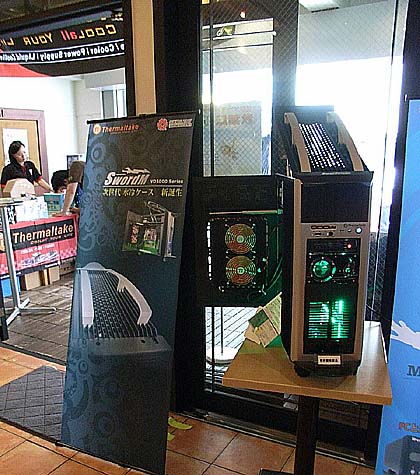 The wide-range selections of Tt PSUs fulfill all demands from
the basic power requirements to the extreme 1500W professionalism
with the premium product quality.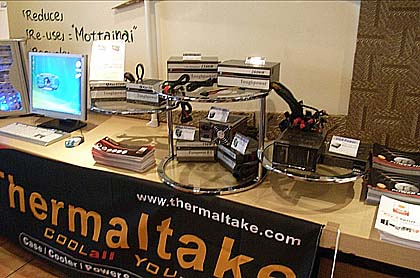 Live demos of the cooler selections not only demonstrated the innovation,
the beauty and the performance of Thermaltake cooling solutions;
but also showing the creativity and simplicity of PC DIY.


Bigwater 760i won the media attention and took the headlines down with its space saving, convenience and upgradable design.
Air-Cooling
After the Enthusiast cooler line,
V1, Max Orb and Blue Orb FX surprised the worldwide extreme players;
the new DuOrb coolers was introduced with powerful technology breakthrough.
The new NB Cool Series comes with wide range Notebook cooling solutions; And iXoft shows you where the name "Lap"top came from.


The Tt Storage selections save your data with leading technologies with careful considerations on the cooling and expressions of personal styles.
Where the crowd stands; where the fun begins! Look at them enjoy the fame of Thermaltake exhibition activities; New product introductions, Key 3 Games, Lottery Draw, And certainly, the Thermaltake big prizes!