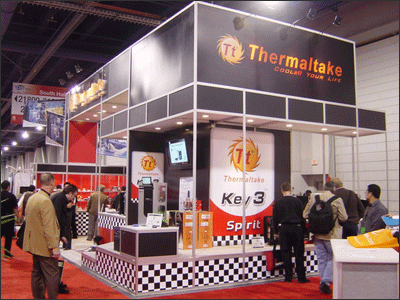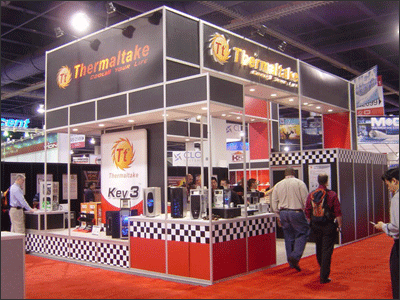 Thermaltake's booth was named the most decorative and most interesting display booth of South Hall 1 at CES 2007.
Thermaltake provides lots of lucky draw prizes for visitors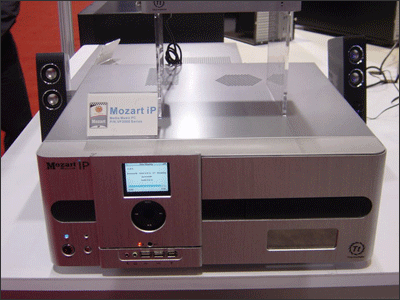 Mozart iP desktop case provide docking for iPod
and iPod Video, so iPod lovers can play their music
or video without turning on the PC.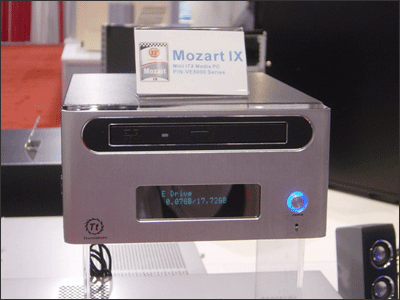 Mozart IX utilizes mini ITX motherboard and create the
smallest Home Theater or multimedia PC.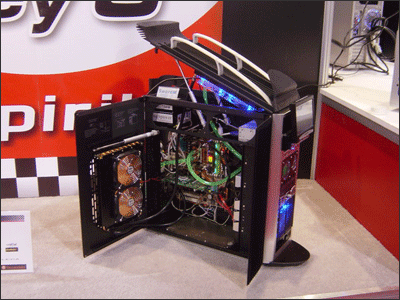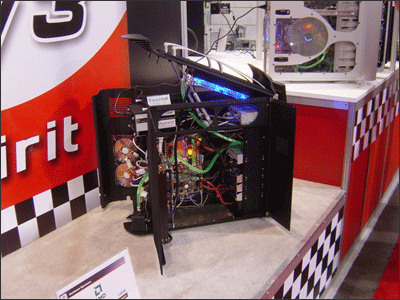 SwordM is a fully handmade multifunctional high class
PC case which will be sold in limited QTY, so owners can
proudly show off the system to their friends.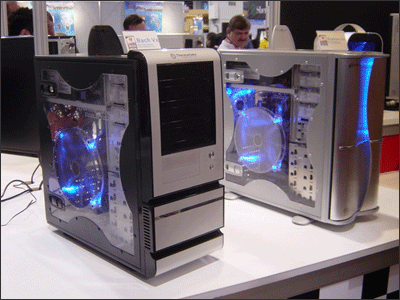 The elegant Bach VX and Soprano DX
both come with optional 25cm fan on the side panel.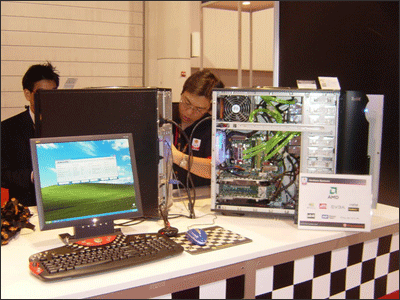 A dedicated section to display AMD's Quad FX platform
system which has 2 dual core CPU and dual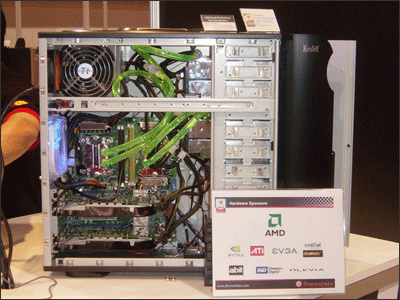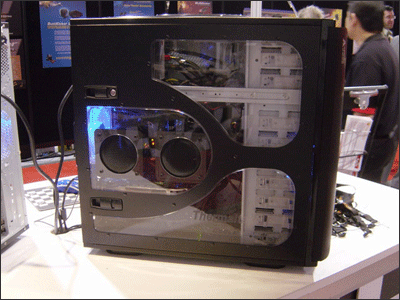 AMD Quad FX system were on display; one system
is cooled dual liquid cooling system, and one is cooled
with 2 high performance air cooler.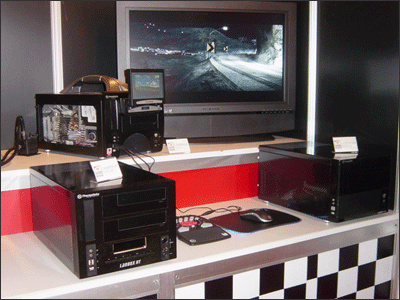 The LANBOX family (LANBOX, LANBOX HT, and
LANBOX Lite) appears together to show the
strength of this product line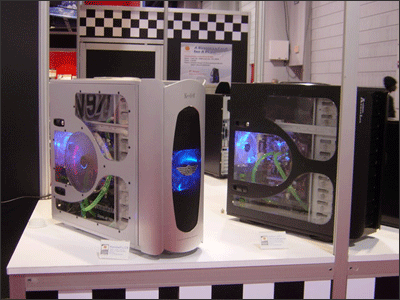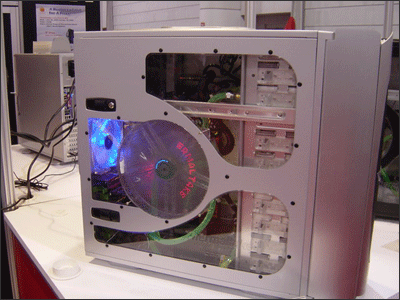 Kandalf LCS and Armor LCS cases comes with side panel
which equipped a 25 CM logo fan which shows
"THERMALTAKE" logo and the ambient temperature.


The complete Orb family appears in CES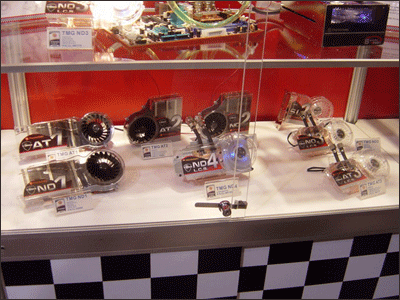 Complete TMG VGA cooler series including new
air + liquid cooler for NVIDIA 8800 graphic card.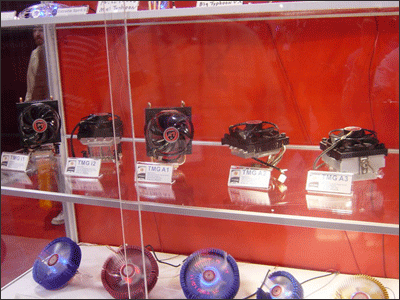 TMG CPU cooler series provide the quite operating
environment while keeping the performance at optimal level.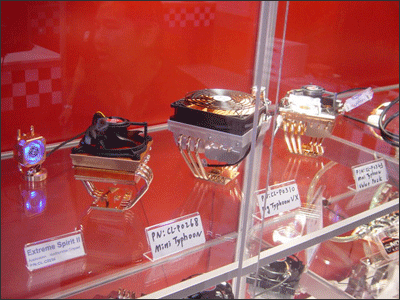 The Typ family coolers are the favorite
among DIY user and enthusiasts.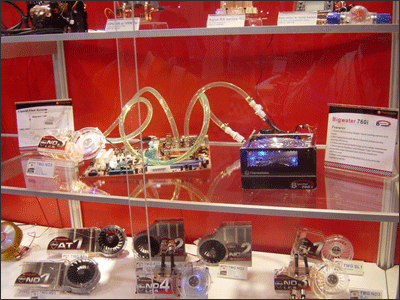 The new released "Bigwater 760i is the perfect liquid
cooling solution for beginners who wants to try liquid cooling.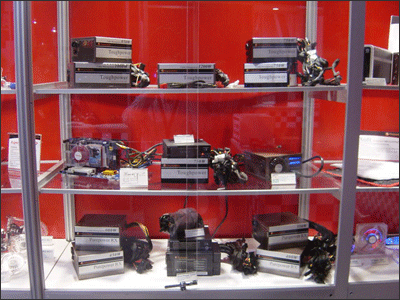 The compete line of PSU from 400W to 1200W plus
special function PSU shows how strong Thermaltake
is in the power supply product line.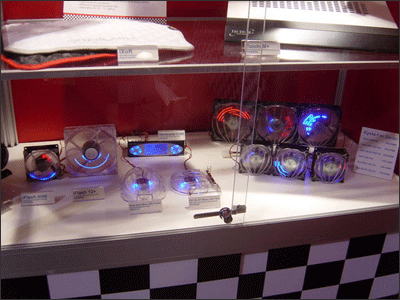 all the LED fans with different lighting pattern
attract many visitor's attention.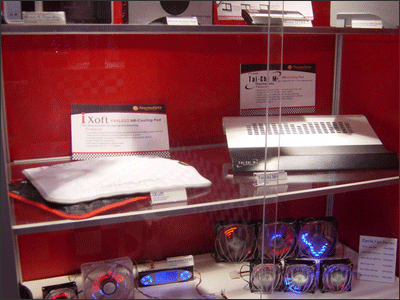 Thermaltake provides notebook cooler both in active and passive solution with Tai-Chi M and iXoft.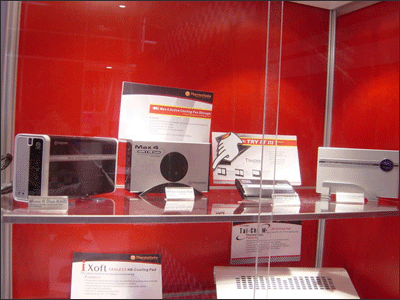 Special designed enclosures provide convenience
way in transporting data.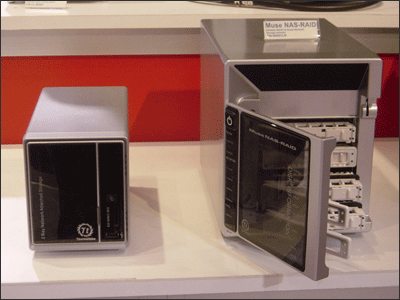 NAS with 4 HDD or 2 HDD are the best network storage
solution for SOHO or family data sharing.